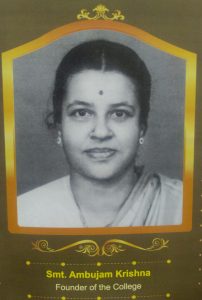 Smt Ambujam Krishn a was born on 21st May 1917 as the daughter of Sri.K.V. Ranga Iyengar, a leading advocate of Madurai. Her parents were great lovers of music. She learnt music under the tutelage of Karaikkudi Ganesan and Ganesa Bhagavatar. She married her cousin Sri.T.S.Krishna, pioneering industrialist and son of T.V.Sundaram Iyengar, the founder of the famous TVS Group of Companies. After marriage Smt.Ambujam Krishna went to Delhi for pursuing her education and graduated from the Lady Irwin College with a degree in Home Science.
In August 1951, she happened to visit the Samadhi of Saint Tyagaraja at Tiruvaiyaru and where she became inspired to compose songs. Her first kriti was "Unnai allal" on Goddess Meenakshi, patron Goddess of her own home town. Later she began composing songs in several languages such as Telugu, Kannada, Sanskrit, Hindi and Tamizh.
Sri. Musiri Subramanya Iyer was much impressed with their lyrical content and then offered to set them to music. While Smt. Krishna had composed the songs to herself in tunes that occurred to her and was most happy that these were to be set to tune by a renowned musician. Later she was to have her songs tuned by several leading vidwan's and vidushi's such as Semmangudi Sri.Srinivasa Iyer, Sri.V.V.Sadagopan, Sattur Sri.A.G.Subramaniam, Madurai Krishnan, Dr S Ramanathan, Sri.K.C.Tyagarajan, Sri.K.R.Kedaranathan, SriT.N. Seshagopalan, Smt.R.Vedavalli, Smt.AnanthalakshmiSadagopan and Smt.Charumati Ramachandran.
True to her sense of total surrender, Smt. Krishna did not use a mudra and also did not attempt at giving any publicity to her works. But the excellence of the lyrics soon made them well known. Today several of her songs continue to be set to music and have become integral components of the concert platform. Her songs were sung and released as cassettes by several well known artistes. Smt.Krishna also composed Radha Madhavam and Krishna Leela Madhuryam, two operas for which music was set by Sri.K.R. Kedaranathan.
Dismayed by the lack of facilities for learning music in Madurai, Smt.Krishna began Sri Sathguru Sangeetha Vidyalayam with well know musician Ramanathapuram C.S. Sankarasivam as its head. She went from house to house encouraging parents to send their children to the music school. Her efforts bore fruit and today the institution is a flourishing college. Smt Krishna also provided Madurai with its first auditorium where music could be heard in comfort. The Lakshmi Sundaram Hall, named after her mother in law, was entirely her creation.
Leading a life of simplicity, Smt.Ambujam Krishna devoted her time to composing and her songs were compiled and released in four volumes titled the Gitamala. Several songs still exist in manuscript form. She passed away on 20thOctober 1989, having led a life of complete artistic fulfilment.