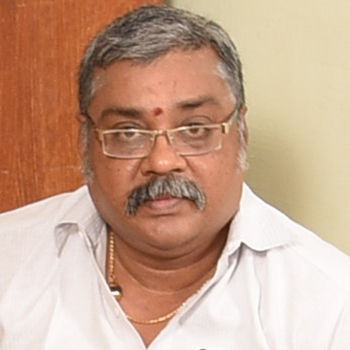 VIOLIN
Associate Professor
Associate Professor in Violin
Saminathan Born as first son of Pulavar N.S Sundararaman, Tamil Isai exponent, on 4 th June 1965. Started his music training under his grandfather Sri Sreenivasa Pillai, in the way of learning Tevaram and Thiruppukazh. Since his 5 th age, He started learning violin under Veteran Shankara narayana Iyer, the disciple of Harikesanallur Muthiyya Bhagavathar and Appavu Bhagavathar. At the same time He finished a five year "Paata saalai" course, conducted by Madurai Meenakshi temple for Tevara Isai taught by Pon Muthiyya Oduvaar. In the year 1985, He was selected as "best performing artist" by Tamilnadu Iyal Isai Naataka Manram and under their sponsoring He gave concerts in four venues. In the year 1986, He was selected by the Human resource Dept, Govt of India for higher learning in Violin under the same Guru. Sri Saminathan secured his graduation B.Com in the year 1985. He was appointed as a lecturer in Violin in the year 1986. In the same year Sri Saminathan started learning Nadaswaram under sri Ramu pillai of Meenakshi temple and later took training under Padmasri M.P.N.Sethuraman.
Since then He started his Concert career in both Violin and Nadaswaram.
In the year 1989, Sri Saminathan performed on nadaswaram before the Reputed Prime Minister Sri Rajiv Gandhi during the Science Congress held in madurai Kamaraj University representing our institution. From 1987 He served as residential tutor for Vocal (Tevaram) , Violin, Flute, and Nadaswaram for University of Wisconsin and University of Columbia of USA.
In January 2000, He was awarded "Atheena Nadaswara Vidwan" by Thiruvavaduthurai Atheenam. Till date he is serving as a Sangeetha vidwan for that Mutt. He is also giving guidelines for the National and International researchers regarding the information of South Indian temple ritual Music.
He has released many CDs and VCDs on distance educations, easy learning Violin and Nadaswaram Raga bhaava, for easy learning the raga alapana for budding violinists and "Keerthana Sagara" consisting of many compositions of various compositions.