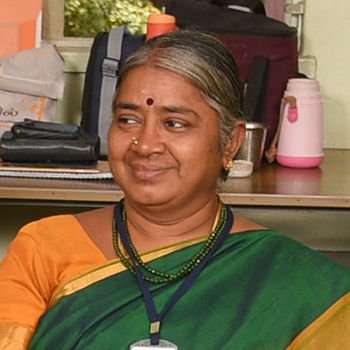 Principal in Charge
An adherent lover of music, Dr.N.Barathi, Associate professor in vocal music, hails from a renowned music family. Her father Sri Alandur S.Natarajan, was a traditional violin Vidwan, and her paternal uncle Sangita Kalanidhi Dr.S.Ramanathan, was a connoisseur in Music and a Musicology.
Professional Status
Dr.Barathi adopted her career initially from her father and then became the prominent disciple of Dr.S.Ramanathan. She took her U.G. and P.G. (music) from Madras University. Dr Barathi Achieved her Ph.D from Madurai Kamaraj University in the year 2009 on the topic "Isai Medhai Dr.S.Ramanathan". She has participated in many national and international music seminars and presented papers on different topics.
She has been giving regular music concerts for the last 23 years in various public forums. Some of the notable Performances are:
Participation in Dr.S.Ramanathan"s Lecture Demonstrations.
She had been selected as a promising youngster by 'Iyal Isai Nataga Mandram' Govt of Tamilnadu
Prestigious performances in Saraswathi Sabha, Chennai, Sri Sathguru Sangeetha Samajam, Madurai, and Karaikudi Tamil Isai Sangam.
Regular participation in Tyagaraja Aradhana, and Sadhasiva Brahmendrar festival, Manamadurai for the past ten years.
Joined S.S.S.V. Madurai as vocal Lecturer in the year 1994, and now holding the post of Associate Professor in Music. She has trained many students who are well placed as music teachers in reputed schools/colleges.
She has been training and guiding many students for the state level music competitions. Some of the organisations where her students achieved many prices are,
Rasika Ranjana Sabha, Trichy.
Indian Fine Arts Society, Chennai.
Jawahar Mandram, Chennai.